The Marina Mall Pet Cart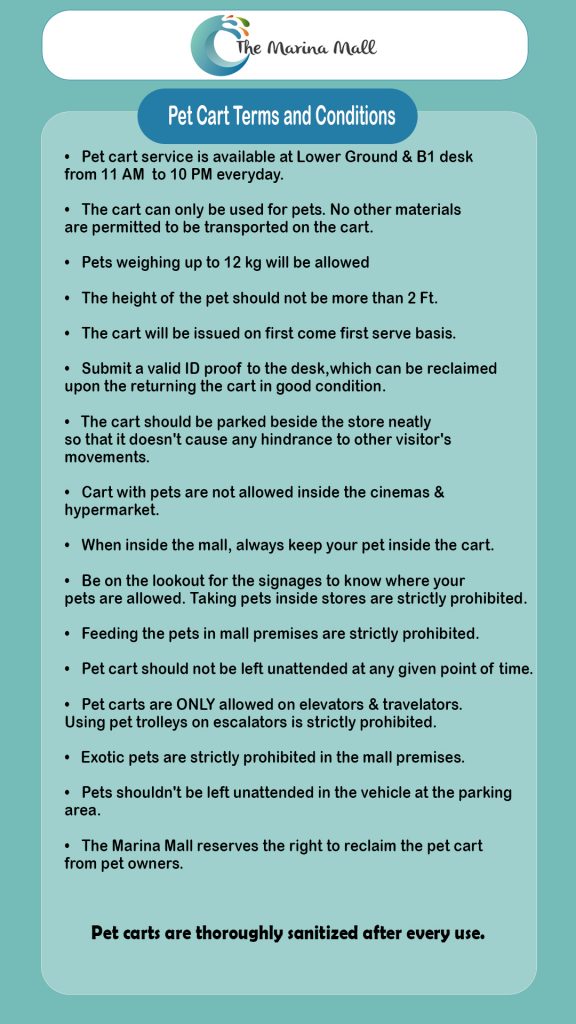 Pet cart service is available at Lower Ground & B1 desk
from 11 AM to 10 PM everyday.
• The cart can only be used for pets. No other materials
are permitted to be transported on the cart.
• Pets weighing up to 12 kg will be allowed
• The height of the pet should not be more than 2 Ft.
• The cart will be issued on first come first serve basis.
• Submit a valid ID proof to the desk,which can be reclaimed
upon the returning the cart in good condition.
• The cart should be parked beside the store neatly
so that it doesn't cause any hindrance to other visitor's
movements.
• Cart with pets are not allowed inside the cinemas &
hypermarket.
• When inside the mall, always keep your pet inside the cart.
• Be on the lookout for the signages to know where your
pets are allowed. Taking pets inside stores are strictly prohibited.
• Feeding the pets in mall premises are strictly prohibited.
• Pet cart should not be left unattended at any given point of time.
• Pet carts are ONLY allowed on elevators & travelators.
Using pet trolleys on escalators is strictly prohibited.
• Exotic pets are strictly prohibited in the mall premises.
• Pets shouldn't be left unattended in the vehicle at the parking
area.
• The Marina Mall reserves the right to reclaim the pet cart
from pet owners.
  Pet carts are thoroughly sanitized after every use.